http://edition.cnn.com/2009/WORLD/europe/02/09/uk.station.flashmob/index.html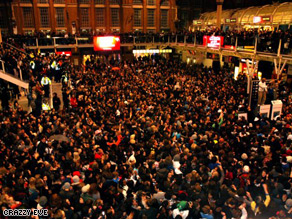 Source: CNN
Thousands of dancers jammed a major London train station in a Facebook-driven "flashmob" mimicking an advertisement for a phone company.
Thousands of people attended Friday's silent disco.
And the event last Friday evening was so successful that another is planned for next Friday in Trafalgar Square in central London. Plus, a group has been set up to organize another one at Liverpool Street Station a week later.
Videos posted on the social-networking site showed Liverpool Street Station completely filled with people, counting down the seconds until the clock showed 7 p.m., then dancing to music on their mp3 players as the hour struck.